Printing Your Book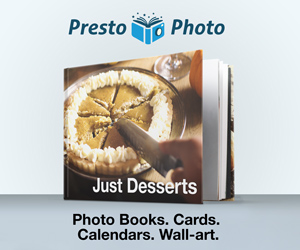 Select the image to get started printing your Recipe Book at Presto Photo!
Not only is this a service that provides a professional hard or soft cover book, but you can also set yourself up to sell the product you just created. You put the time and effort into creating something special, why not make money off the sale of every book?
Please keep in mind that Presto Photo is our printer of choice and we do receive a small commission when you use our link. We do not however have any control over nor do we provide any customer support for their product. Please contact Presto Photo directly with any questions or concerns about your printed Recipe Book.
Have fun with the creative process!
---